BONDAGE -DOs and DONTs
We have now reached the final stage before the 'pleasure and pain' of erotic bondage takes over. This is just a few notes from my own experiences of various types of play and what NOT to do!.
Remember for the 'bottom' or 'sub(missive) she will be offering you her body to take as you wish. However she is still a REAL person and her needs must always be considered and not treated with contempt; that is the quickest way to teminate a relationship!
You will find that every treatise on any sex play includes warnings about the necessity of using condoms, barriers, etc. These must be taken seriously, particularly if you 'play the field'! If you have a permanent partner then normal sexual contact is fine BUT when the anus is involved protection is still essential!
I will try to cover much of what might(?) happen for both partners but straight forward fucking between a 'cock and a cunt' is not part of what I need to write about as this is in any sex manual!./p>
Finally a reminder that Bondage and SM do NOT dictate who gets penetrated or who uses their mouth to get somebody else off.. S/M is much more relaxed and offers a freedom which pure Bondgae cannot. In Bondage the 'submissive' is restrained and the Master (Mistress) controls her movements. In SM the Master controls everything. If he wishes he can have a submissive kneel betewwn his legs and suck him off; or a Mistress may lie back and be fucked by one or more slaves.as she wishes. The Master may decide to tie his slave with her legs spread wide and then suck and fuck her to HIS heart's content. The decision rests with with the Dominant..Remember though that all this must be circumscriBed by the reactions of theSubmissive who will not return if thet are not 'happy' with the treatment they are receiving.
Oral Sex
You may or may not know about oral sex.which divides into two areas. Fellatio which is when the woman sucks the man and Cunnilingus when the man sucks the woman. Of course it remains the same in 'gay' and 'lesbian' relationships.
Fellatio
means that you take the man's cock in your mouth and suck on it.. Cocks are all sizes and thicknesses. Some are huge while others are short, thin maybe thick- like the rest of us there is no uniformaty! Particularly with a large, ot thick cock it takes a lot of practice to take it all into the mouth. Others are smaller and offer less of a problem. You will immediately recogise which your partner has when you see it and adjust accordingly!
Whichever it is there is a natural 'learning curve'.Persuade the man to stand with his back to a wall and then kneel before him and take his cock into your mouth. This is the moment of truth! For some it will be another natural sexual act while.for others, it is revolting. For the latter group make sure that you tell the man as non 'true' parner will forces something on to you which you do not wish. However give it a try before rejecting outright - you may find that you enjoy it!
Gently take the cock in your mouth and tease it a little. Exlore and try it! Suck on it and tease the tip with your tongue. Their are different sensations for circumcised and uncircumsicised cocks. The head of the former is sensitive as it doesnot have its'head' cover'. The latter BECOMES more senative as the sheath is drawn back Ask the man to just STANd as you adjust to his cock filling your mouth. he should then only thrust gently against you. More women are put off by isnsensitive men who 'hammer away' hurting their partner with their vicious' thrusts than any other reason. gentleness by both partners brings its own rewards.
Where to stop? this is again a vexed question which can only be answered by the two people involved. Some ladies enjoy the man's 'spunk' as he ejaculates and it spurts down her throat. The taste she finds pleasurable and she sucks on it to give completion. For others they wish him to withdraw and either she, or he, will then use their hand to 'bring him off'. Here again others like the 'spunk' on their face while others like it on their breasts. This is a matter of negotiation between the partners and has no answer except their own pleasure. I cannot reiterate enough that it must satisfy BOTH partners.In my experience failure to work WITH your lady means toal failure and 'GOODBYE'!
There is no way that the woman can KNOW immediately what her partner enjoys - anymore than he can know until he has tried it. Hopefully you find your own solution which satisfies you both.
Cunnilingus.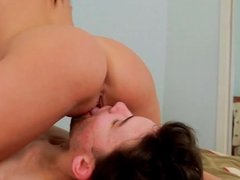 I see this from the point of view of a man performing on a woman who is a ready partner and I have tried to get help from my partner over these notes.
There are two basic ways to perform cunnilingus. The first is to open the woman's legs and go down between thme. The other is to have the woman straddle you so that her cunt is ABOVE your mouth. I use both myself. 'Over the top' allows her to give me a blow job if she wishes - I would add that this latter frequently she prefers not to do as she says that it takes away from her own orgasmic pleasure in receiving!
Let us first examine what we are viewing. If you have already done some preliminary work then you will find that her pussy lips are already fatter than normal as the blood appears to enlarge them. As you look you should also find, again if you have worked well in advnce that when you part her pussy lips the interior will appear coral with a film of her pre-cum spend!. This is as it should be and suggests that she is ready for more action. Do NOT immeiately search for her clitoris! This is the very sensitive little 'button which lies in a protective sheath at the top of the inner lips. Use your tongue around the area. gently ease your tongue deep inside her vagina and move it abut. Explore! Exploe! Explore!. Nothing is gained by rapid progression! Gradually you will find that the clitoris - which is like a tiny penis enlarges and shows through its sheath. NOW is the time to use your tomgue and gently caress it. Flick it but do not suck on it! Often called 'reaming' you can use your tongue everywhere within the orifice without harm and offering your partner exquisite pleasure. .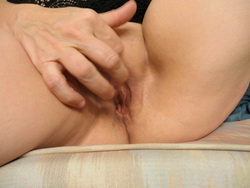 Get her to show you how she mastuerbates. Make her sit back in a chair with her legs apart while you watch. Enjoy as she gently fingers herself antil she finally tightens up and comes. Watch her spend down her legs! This is part of submission. You instruct and she obeys! You will soon learn if you kneel between her legs which part she particularly enjoys stimulating herself to produce an orgasm. You may be surprised! But do remember that she needs clitoral stimulation to produce an orgasm. As one expert puts it "Expecting a woman to come without having her clit touched is a bit like expecting you to come from having your nipples played with!"
Make sure that you satisfy her for, in so doing, she will be fulfilling your instructions as well as pleasuring herself.
Anal Play
This is a very sensitive subject which seems to have been taken over as 'forced sex' with huge cocks being thrust into unwilling bodies. Before starting any discussion let us immediately reject that view.
The Early Christian Church has a lot to answer for in condemning anal sex as for thousands of years it has been part of sexual rituals and pleasure. In Pre-Christian Greece. young men would 'pair up' as warrior partners, athletic colleagues and mutual masterbation and anal sex was part of their activities. A close bond between men can soon turn platonic into sexual love. In Rome one of the most famous writers comments that ' courtesans and prostitutes spent as much time on their knees as on their backs' - alluding to the fact that they were frequently penetrated from behind and suggesting it was considered normal. Julius Caesar is probably the most famous name associated with anal sex as he always chose 'young, attractive, virile men' to surround him, particularly on campaign! He was a great womaiser as well as a close friend of King Nicodemus - as the marching song of the 10th legion testifies with
Gaul was brought to shame by Caesar;
By King Nicomedes, he.
Here comes Caesar, wreathed in triumph.
For his Gallic victory! Though the greatest of the three.
So let us disabuse ourselves of tthe notion that it is an unusual activity only carried out by perverts!
There is no reason why anal sex should be painful, traumatic or unpleasant! In fact the promise you must make to yourself and your partner is that you will never let them get hurt. Also anal sex cover a multitude of activities. For some it will be penetration with a cock, for others it will be just one or more fingers, othes prefer an enema rather than any other activity. Whatever your, and your partner's choice, is OK as long as you are both having pleasure! Female' aficionados' insist that anal sexis as pleasurable and exciting as a 'cock in the cunt' and also allows both orifices to be stimulated at the same time. men cannot , of course, make the same judgement!
How to start. is the first question we need to answer. The decision is made by you and your partner. If you have them come over the top of you for you to use your tongue on their pussy and clitoris then be a little more adventerous and, covering a finger with a gel, gently insert it into the anus. The imediate reaction will tell you all you need to know. Total rejection means that anal play is OUT but acceptance suggests that further exploration will not be out of place. Add a second finger to the first making sure that both are well lubricated. A dry finger and a dry anus are 'no noes' and will do more to put your partner off than anything else. Now 'finger fuck' slowly at first but then faster - note NOT harder. This is pleasure NOT pain!. This is stage two and msny find that rectal stimulation is as enjoyable, but different, from vaginal stimulation. I use a maximum of THREE fingers myself!
She accepts the finger(s) and we are in business! I like to have a slim anal vibrating dildo available at this point. Cover the tip with a lubricant and replace your fingers with it. Ease it in slowly and gently and then, as with your fingers, move it in and out using the vibrator as extra stimulus. From here a larger dildo can be used, all the time remembering to lubricate it well and make sure her anus is ready to receive it. This must offer pleasure not pain. If the dildo is a vibrator all the better.and fingers exploring the clitoral area at the same time will have even greater effect.
Some people prefer to start exploring anal sex with 'butt plugs'. These are rubber, shaped like a penis with 'shoulders' that prevent them going right in and needing a doctor to remove them. Butt plugs are of various sizes and many people have a set of three baby, mummy and daddy, with the selection being inserted getting larger with each dildo. This stretches the anal muscles and makes them more receptive. Some people fear causing damage.( If you think of the size of what you 'evacuate' sometimes when going to the toilet this is a much overated fear.) Again remember butt plugs MUST be well lubricated before insertion!
I have discovered what I consider an even better butt plug option. This is a rubber penis which is hollow inside and using a few squeezes on a pump (supplied) enlarges when inserted. This also has a vibrator with 9 speeds so that you can offer the maximum stimulation. This is excellent for couples where a thick dildo will not penetrate without pain.
All this time remember your 'sub' is under your control. When she kneels for the butt plug or dildo why not use a leg spreader to offer you extra access to her pussy and anus. Fasten her hands with the leather handcuffs. behind her back so that she is now completely helpless. Remember the blindfold. This totally disorientates a person so USE it.
I have just said USE it. This must be the watchword for all Erotic Bondage. "USE IT DON'T ABUSE IT". You are in a powerful position and in control of another person. use their trust in you wisely. Never let your partner down!
Finally a reminder about cleanliness. After use of any instrument such as your cock, a dildo, butt plug or even your finger hygenine demands that everything is washed in soapy disinfected water. I use Dettol and Ajax liqid but any similar products work as well. Also the lubricating gel should be 'water based' so that it does not get sticky.
Go ahead and enjoy yourself. Experiment and pleasure each other, always remembering WHO is in control!