Female Masturbation
Here we cover Female Masturbation with a superb article from Cory Silverberg
I will be pleased to add further information and pictures if anybody would like to contact me.
Article 1
Masturbation is considered by many to be the cornerstone of sexual health. Because you get to do it by yourself, on your own terms, it's probably the best way to learn what turns you on. Women are raised with little information about their genitals, and sex, including masturbation doesn't actually come naturally for everyone. Some women orgasm from clitoral stimulation, others enjoy vaginal penetration or G-Spot stimulation. Remember, there's no wrong way to masturbate; everyone is different!
I cannot speak as a woman but as I spanker of ladies I have often had lesbian couples come for spanking and advice and their comments as they relax both, during and after, spanking thetalk to me. Like men they often discovered the pleasure of masturbation by accident. Frequently it was when they were drying themselves between their legs and the friction of the towel offered sensations which they wanted to explore. It might also be tight knickers which had the same effect but eventually they dicovered that the little button at the entrance to the vagina would grow as they rubbed it and from this there pleasures started.
Becoming, or dicovering they were, lesbian was more complex and is for the Mutual Masterbation section.
Finally again, as with men , solo masturbation is a never ending source of pleasure which is available at any time day or night and needs no second party. Also like men they enjoy the stories in
Time Required:
30 minutes to several hours Here's How
1. Get yourself in the mood for masturbation.
Relax as much as you can.Take a warm bath or have a glass of wine. Ensure your privacy: turn off the phone, lock the door, send the kids to a neighbor's. Find a comfy position. Most women start out lying on their backs, legs bent and spread apart, with feet on the ground. Remove most or all of your clothing.
2. Fantasize for masturbation.
Recall an exciting past sexual encounter or elaborate on a favorite sexual fantasy. If you need a boost, look at a sexy magazine, read an erotic story, or watch an adult video. Allow your mind to explore any images--anything goes as long as it heightens your excitement.
3. Explore all parts of your body.
Run your hands along parts of your body, lingering along areas that are more responsive to touch than others. Look at your genitals in a mirror (especially if you're unfamiliar with them) and caress the different parts to see what feels especially good. Find and touch your inner and outer labia, your clitoris, your vagina and your perineum.
4. Touch yourself.
Using one or two fingers, rhythmically stroke the different parts of your vulva, paying particular attention to your clitoris and labia. Experiment with different types of pressure, speed and motion. Try placing a finger on either side of the clitoris and stroking up and down, or placing two fingers on the clitoral hood and rubbing in a circular motion.
5. Experiment.
Try different types of touch: stroke, tickle, knead, pinch, or lightly pull your genitals. Try using one or several fingers, the palm of your hand, even your knuckles.
6. Build up excitement.

Learn to hold onto sexual excitement by building up and then reducing or temporarily stopping the stimulation. Pay attention to how your body is responding. It will tell you the particular stroke that feels best and when to pick up or slow down the tempo.
7. Breathe and rock.
Breathe deeply rather than hold your breath. This helps release the sexual energy, rather than fight it. Rock your pelvis as you would during intercourse. Rhythmically clench and release your PC muscle (using a dildo for vaginal penetration can help).
8. Getting over the top.
If your hand gets tired, give yourself a rest, switch hands, or try a vibrator. If you're on the brink of orgasm, but can't quite get over the hump, try altering you're breathing, or focusing on a really hot fantasy. Give yourself extra stimulation: caress your nipples, or try also thrusting your other fingers or a dildo in and out of your vagina.
9. Ride the Wave.
As you begin to orgasm, continue the stimulation through the orgasm. Lighten up on the stimulation during the first extremely sensitive moments but keep it going to enjoy those little pleasurable aftershocks. Your first orgasm may feel like a blip or a blast, but the more you practice, the more variety you will experience.
10. Practice makes for perfect masturbation.
Don't worry if you don't come on your first try, keep practicing, or try some of the variations below. (CLICK on link to watch a video of female masturbating with a dildo)
Tips
1. Vibrators take some of the manual labor out of masturbation by providing direct, intense physical stimulation to the clitoris.
2. Water helps many women learn to masturbate. Lie back with legs spread in a bath with a shower hose and direct the stream of water at your clitoris. Vary the pressure, the pulsation, and the temperature. Alternate methods: slide your butt over the drain so your legs are up in the air and your genitals are up under the tub faucet (rather awkward but do-able), or use Jacuzzi jets.
3. Rub against something--a pillow, the corner of some furniture, a dildo.
4. Dildos can be a pleasurable accompaniment to clitoral masturbation, as they offer the fullness of penetration and can also stimulate the G-Spot.
How To Masturbation for Women
From Cory Silverberg,
Your Guide to Sexuality.
FREE Newsletter. Sign Up Now!
About.com Health's Disease and Condition content is reviewed by Meredith Shur, MD


Techniques of female masturbation with the hand - the stimulation of the zone of the clitoris: Certain women like to directly touch their clitoris, others prefer an indirect stimulation : by caressing one of the sides of the cleft of Venus, or the mons veneris.
It is often the middle finger which is solicited. You can caress your clitoris from top to bottom, of before behind, or to make a circular motion if you are too sensitive. Pressure and rhythm vary from one woman to another. Start slowly and gently, then in a way faster and more insistent to see what is appropriate to you best and what is most pleasant. Many women keep the same rhythm until the orgasm, others stop right before, then wait a little before starting again.
Tricks : You can also use your vaginal secretions to lubricate the clitoris and the small lips. Otherwise, humidify your fingers with saliva, or use a lubricant containing water. A continuous and too intense stimulation of the clitoris can be slightly painful. Caress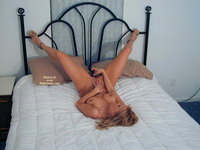 another zone then. If the friction ends up irritating the clitoris, stops the direct caresses and stimulates the clitoris hood rather.
As always, there is not absolute rules in this technique of female masturbation. Certain women do not like the idea of one so intimate contact, others cannot live without that to have a more vaginal pleasure.
The fact is that, a good number of women caress herself introducing a finger or an object into the vagina. Introduce its middle finger can be pleasant and useful. That can be a point of support for the other fingers which stimulate the neighbouring erotogenic zones.
Oftenly, we will not directly start to introduce herself a finger : a digital penetration too abrupt would cause, undoubtedly, more gene or small sorenesses that another thing. A progressiveexcitation of your erotogenic zones (breasts, interior of the buttocks, pubic zone, vaginal lips or clitoris) will cause in the majority of the cases an excitation, then a rise of the pleasure and a natural lubrication of your intimacy. Then come gradually to explore your body : a small furtive finger which introduce in then show up to caress you around the clitoris… Deeper penetration against the soft walls of your vagina… A finger, then a second ? And one third ? There are rules only those of what you like : listen to your body, your desires, your pleasure.
Tricks :
You can also use your vaginal secretions to lubricate the clitoris and the small lips : the pleasure will
be only softer !
- If you feel that in spite of an external stimulation (direct caresses of the clitoris zones or via soft objects), your intimacy remained relatively dry, don't panic : there are not 2 women similar ! (Tiredness, stress, period of the cycle,…), I recommend you the purchase and the use of intimates lubricant (containing water) that you will be able to find in malls, pharmacies or more discreetly by correspondence (for example at Sexy Avenue ). Sometimes, you will find your fingers too short, too fine or too hard It is the moment to test the natural prolongation of your hand : a dildo or one with a vibrator !


Thanks are due to the following sites which I recommend strongly for follow up reading
Advanced masturbation
Mutual Masturbation
Hardys Masturbation
Pictures from
Red Clouds
Sexinfo101 has a superb set of information and pictures of all sexual positions. CLICK on the picture to enter their FREE site